Biography of Nazan Saatci
After has starred in more than 20 films and television series in Turkish and Lollywood movies, Nazan Saatci undertook a brand-new mission and launched the Fairy Voices organization to raise awareness. Here is a short section from Saatci's early life biography.
           Nazan was fond of animals since childhood. During a shoot with an elephant named Buca in Srilanka.
Nazan Saatci was born on June 22, 1958, in Samsun, a historical coastal city near the Black Sea in Turkey. After completing high school, she attended the University of Istanbul and graduated with a B.A. in Turkish Linguistics and Literature.
Although her domestic and overseas film work and the beauty contests that she participated and organized together covered a long part of Nazan's life, with her family completely settling in the United States, she eventually had to move from Turkey to California.
Acting & Beauty Contests
Saatci has appeared in more than 20 films and television series in Turkey, Pakistan, India, Sri Lanka, Nepal, Iran, and France. For more information about Nazan Saatci's film works, see IMDB. She has been noted in Turkish cinema, especially Tokatcı, where she played with Kemal Sunal, and Hulchul, with Jawed Sheikh in Pakistani cinema, there she is remembered for these roles.
Nazan Saatçı won first place together with Bulut Aras in The King and Queen of Cinema Contest, which was organized by the newspaper Tercüman İnciin Turkey in 1976.
She came in second in Miss Europe beauty pageant held in Italy in 1978 and received the title of Miss Stampa(Miss Press) because of excessive attention she had from the Italian press.
In 1981, she won Donna Ideale Internazionaletalent competition, again held in Italy, beating 56 countries, and taking the International Ideal Women title to her country.
In 1983, Miss Asia Quest– Asian beauty pageant held in the Philippines and Nazan was the second runner-up and was awarded the title of Miss Talent for her dance performance on Philippine Television.
She performed her music album in Miss Hawaiian TropicBeauty Pageant at Universal Studios in Orlando, Florida in 1995.
Nazan has held several beauty pageants in Turkey, including Miss Europe Modeling and Miss Globe International.  In addition to all these, she has also represented Turkey as the jury and chairman in many beauty pageants, including Miss France and Miss Sri Lanka.
Nazan's Spiritual Awakening and life
Nazan received hypnotherapy trainings from Palo Alto Hypnotherapy School and Gerald F. Kein's Omni Hypnosis Training Center in Florida to improve herself after having a series of mysterious and extraordinary spiritual experiences in 2009.
Nazan Saatci is Muslim and influenced by mystical Islam. During the years of her spiritual enlightenment, in which she considers the awakening period of her life, she understood and practiced Sufism. Nazan, meanwhile, admired the Sufi poet and Mawlawi thinker Mevlana Jalaleddin Rumi a lot, and her spiritual journey deepened during her visit to Konya, a city in the central Anatolia where the Mevlana mausoleum rests.
After having fairy communication and forming Fairy Voices, Nazan believes the phenomenon of mysticism arises by following and applying certain rules of love and knowledge. This Islamic belief can also be defined as; "moving in the path of Allah and finding the truth of divine love and knowledge through direct personal experience."
Nazan Saatci during one of her film visits to Pakistan
Nazan's Writing Experience
Although Nazan has accomplished more on the big screen, she eventually realized that her true passion is writing.
This became apparent when she wrote the lyrics for a music album called, Param Yok ki which she also sang and performed.
She strongly wishes that her writings and stories, which they are written with her Muse together, can reach both children and adults one day.
Click here to view Nazan Saatci's profile on IMDB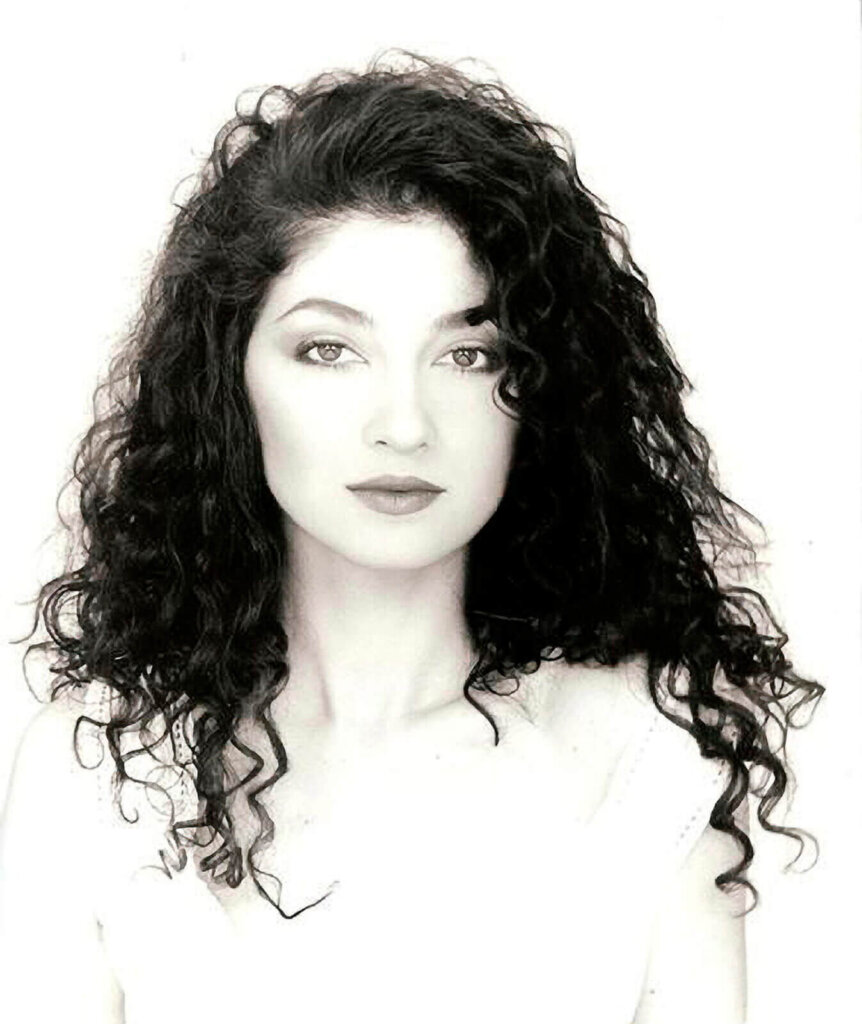 Fundraising Products by Fairy Voices
    VISIT & BUY  YOUR ART THROUGH OUR GALLERY